Jabra HALO Stereo Headset Featuring Noise Blackout™
&
Jabra SP200 Speakerphone
by Sonny Davé
Jabra Introduces 2 New Great Products at the 2009 CTIA in Las Vegas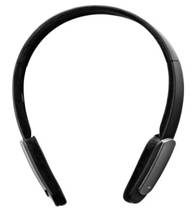 Jabra HALO stereo headset featuring Noise Blackout™ Technology (MSRP: $129.99; Available: May 2009)
The Jabra HALO is a wireless Bluetooth stereo headset that allows users to enjoy wireless music and answer phone calls in crystal clear stereo sound. Featuring A2DP technology, the Jabra HALO gives users the ability to seamlessly connect to any Bluetooth music-playing device - and all 3.5 mm music playing devices - including mobile phones, Mp3 players, laptops, and TVs. In addition, ensuring that users won't miss phone calls while listening to music, the HALO fades out music to allow for incoming calls. The HALO features a lightweight (only 3 ounces!) over-the-head design with a foldable headband – small enough to take it wherever you go. The HALO also has the versatility to switch between wireless and wired connectivity if a device doesn't support Bluetooth stereo (A2DP) technology. The device also features Zirene® Power Bass for audio enhancement. Review coming soon!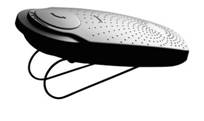 Jabra SP200 speakerphone (MSRP: $59.99; Available: April 2009) – a Bluetooth wireless speakerphone for mobile phones featuring one large and easily accessible control button, a volume wheel, and a dedicated on/off switch, allowing users to control calls effortlessly. Expanding Jabra's offering of hands-free speakerphones and building on the success of the Jabra SP700, the SP200 will also provide excellent sound quality and microphone performance and features DSP technology to reduce background noise. The Jabra SP200 is a versatile, durable device that can also be used at home for conference calls and hands-free talking while preparing dinner or making calls with the whole family. Requiring no installation, the Jabra SP200 can be attached to virtually anything in your home or car (e.g. visor, dash, cup holder, kitchen cabinet, desk, bookshelf, etc.) for conference calls and hands-free talking while preparing dinner or making calls with the whole family. Review coming soon!
We reviewed the Jabra SP700 last year and it was the best speakerphone on the market. It was easy to use, the sound quality was excellent and had a great battery-life. I turned it on when I got in my car and off when I left the car and forgot to turn it off sometimes. The battery lasted about month before it had to be re-charged. Of course, this will vary for usage but for moderate use it lasted awhile. I recommended the SP700 last Christmas and I am looking forward to trying out the SP200.